Welcome to Better Mobility
Coming soon - The Xenon Update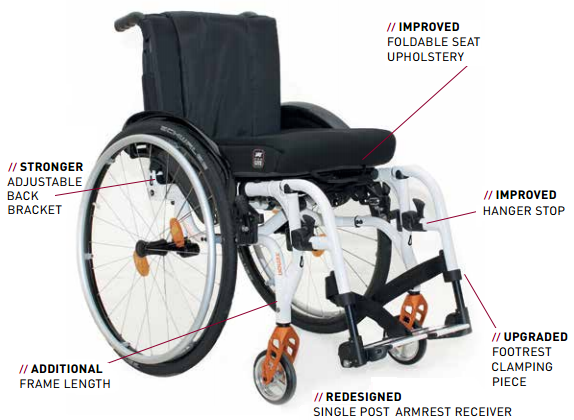 Stronger Adjustable Back Bracket
Additional Frame length
Redesigned Single Post Armrest Receiver
Improved Foldable Seat Upholstery
Improved Hanger Stop
Upgraded Footrest Clamping Piece
---
Coming soon... watch for it here first!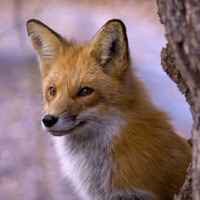 It's quick, nimble and features a 5 way adjustable seat with a great driving range.
The NEW Invacare Fox® powerchair will be launching soon, watch for it here first!
---
Better Mobility Is An Official Quickie Professional Partner!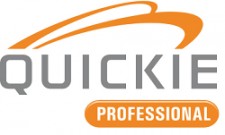 Better Mobility is proud to be part of the Quickie Professional scheme. The Quickie Professional scheme recognises and rewards those who uphold the highest standards in prescribing Sunrise Medical products.
---
Sunrise Medical's Biggest Ever Promotion Is Now Available For You!
The 'Style Package' Enables A Selection Of Customised Options To Be Chosen...For Free

Sunrise Medical have just launched an unbelievable new deal, starting from today (the 1st of February) and that can be taken advantage of up until the 31st of May, so make sure you don't miss out. What exactly is offered is the 'Style Package', a package that means any and all of these options are free...vented upholstery, a straight aluminium side guard (with or without fender), an anodized style pack and any frame colour (including matte colours). Without the Style Package, these options together can cost up to £440, so the potential for saving is clear.
Not only that, but the Style Package offers an excellent opportunity to customise your wheelchair so that it suits you personally. This option on three of Sunrise Medical's already top-of-the range wheelchairs, the
Quickie Argon 2
, the
Quickie Helium Generation 2013
and the
Quickie Life R
, makes them even more attractive. This is especially the case with the
Argon 2
, a chair that is only a month old itself, so check it out while bearing in mind that you can ensure that the style of the chair is your style, for free!
---
Happy New Year 2014!
Better Mobility January Newsletter
---
Sunrise Medical Have Recently Launched Several New And Exciting Products!
From Powerchairs to Cushions, They Are All Available to View On Our Website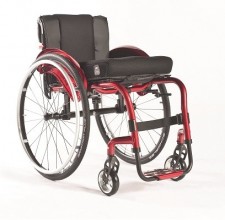 This week, several of the Better Mobility team have been to Sunrise Medical's new product launch, and came back suitably impressed. The improvements in several wheelchairs and powerchairs in the Quickie range are noticeable and innovative, helping to provide a higher level of performance for the user. The
Argon 2
, the
Jive R 2
, the
Salsa R 2
and the
Salsa M HD
provide sophisticated solutions to issues raised by their predecessors, while also offering an extensive range of adjustable components and features composed of the highest quality materials.
Furthermore, Sunrise Medical have launched two completely new products in their Jay range, the
Jay Easy
backrest and the
Jay Balance
cushion. The Jay Easy provides the perfect balance between functionality and simplicity, while offering an exceptional level of postural support and comfort. In addition to this, the
Jay Easy
can be customised in various ways so that the user's individual needs can be catered for. The
Jay Balance
is an exciting new cushion that uses all the best features from previous, renowned Jay cushions such as the Jay 2 and Jay 3. New features include the improved well design, the dual-cover system and the sophisticated fluid pad options, creating an all-round, high-performing cushion.
---
Read All About Our Dodgeball Experience!
As Part Of Our Movember Efforts, We Took Part In A Evening All About Dodgeball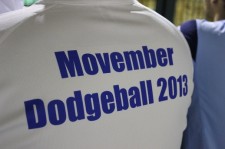 On Monday the 25th November, the Better Mobility team took part in a new activity, that no one had any experience in apart from watching a certain film...Dodgeball! As well as just growing moustaches (check out our Instagram and Facebook to see how that's going), we wanted to do more as part of our Movember experience, and so when the invitation came to compete in a dodgeball tournament against several other teams, both amateur like us and professional, we jumped at the chance.
Over the next few weeks, we were busy deciding our team name, eventually going for 'Better "Mo"Bility', and then designing our team shirts and finally training-which consisted of occasionally throwing things at each other and shouting 'Dodgeball'. Finally the evening arrived, and we entered the hall where the event was being held, with little idea of what was going to happen while being surrounded by various moustaches.
However, once we learned the rules of the game, Better "Mo"Bility were ready to go, and we had two consecutive games to play. Still finding our footing in the first match against 'StachPort', we just lost. In our second game we thought we'd got the hang of it, so went in confident of a victory over 'Don't Stop Ballieving', but a contentious referee decision was of course the only reason we lost the game in a sudden death decider.
Nevertheless, we then embarked on a winning streak, losing only one game, against 'Trailer Trash', in the next six (and even that came down to a showdown between one 'Better "Mo"Bility member and one of the 'Trailer Trash' players). We were dodging, ducking, dipping, diving and dodging like pros, and heated discussions concerning tactics and team selection took place during our breaks. Unfortunately, we narrowly missed out on qualifying for the knock out stages against a genuine, professional Dodgeball side, but then again that was probably for the best!
We really enjoyed our dodgeball themed evening, and the best part was that we were also helping the excellent Movember cause at the same time. If you haven't been growing your moustache this month, please donate through our page here and help change the face of men's healthcare.
More pictures...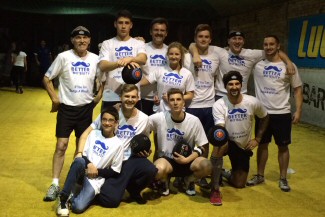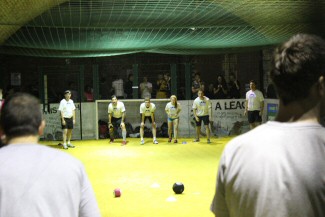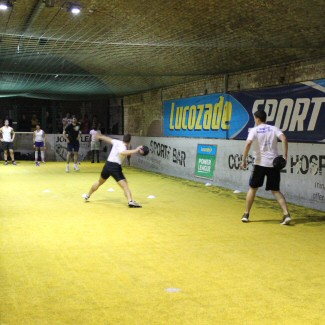 ---
Check Out Our Updated Clearance Page!
Up to Seventy Per Cent Off On A Range of Products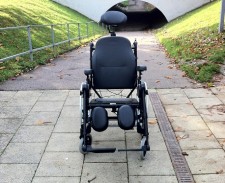 We have recently updated our Clearance Site with an extensive range of new products at remarkable prices! With many products, ranging from wheelchairs to grab rails, discounted by fifty per cent and some up to seventy per cent, it is the perfect opportunity to get what you need at a price you can afford. Check out our
Clearance Page
to see exactly what you can buy and the savings you can make for yourself, and do not hesitate to
contact us
for any more information.
---
New Transportation Information Issued from Pride Mobility
For the Consideration of Pride Power Chair Users
Pride Mobility have recently issued a new owner manual, which has been compiled from the latest specifications and product information available, to ensure the highest levels of safety for the user. If you are currently using any of the following chairs, please read the new user manual, which has been attached. The chairs concerned are:
Quantum 600 Sport
,
Quantum 600 Sport HD
, Quantum 6000,
Artemis
, Athena,
Quantum 600
,
Quantum 610
,
Q6 Edge
,
Fusion
,
Lightning
,
Sparky
,
Quantum 1420
, Jazzy 1121, and
Pride LX.
---
Have you ever wanted to experience the thrill of hand cycling?
See What Our Own Staff Thought of the Shark!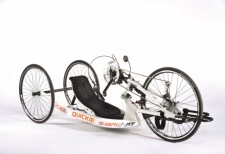 Do you need a hand cycle to take part in a race but yours isn't race ready?
Well now you can hire the new Quickie Shark RT! Based on the very successful Quickie Shark RS, the Shark RT is highly adjustable but doesn't compromise on weight or performance.
If you want more information or to arrange a hire please don't hesitate to get in contact.
Some of the Better Mobility staff tried out the hand cycle for the first time, see how they found it on our Facebook https://www.facebook.com/bettermobility?ref=hl, and what they thought below:
When I first saw the Quickie Shark RT, I thought it would take a lot of training before I'd have any idea how to use it. Even when it was explained to me, it seemed like you'd be exhausted after just a minute of using your arms to push you around. However, once I got in the hand cycle that all changed, and I was amazed at how just how easy and fun it was to use, and I was soon speeding up and down the hill outside the shop-Jack Morris.
I've always liked to go quick, and so the Shark hand cycle was perfect for me. I was so surprised at how fast I could go in it, without having to spend ages getting used to the hand cycle, and because of how close you are to the ground its even more exhilarating. I really enjoyed using the Shark, and can't wait to get out on it again-Ben Collenette.
Using the Shark hand cycle was great, it was really fun and I even managed to win twenty pounds! I was able to win a bet after I managed to get up a hill from a standing start, which shows how easy it is to use. The lightness of the frame was really surprising, and meant that every push of the arm sends you flying. Not only that, but it looks great as well!-Nick Mizon.
---
Do You Need Help Or Advice With Buying A Mobility Aid?
Buying a mobility aid can be confusing and difficult, and knowing exactly what will suit your needs can be almost impossible without being aware of everything that is available. While we are always happy to help with this, and please feel free to contact us to discuss your requirements, this excellent article lays out the basics of everything you need to know in an easily understandable and clear way. Just check out More Information if you have a query, and if your question is still unanswered give us a call.
---
Wheelchair Add-On Kits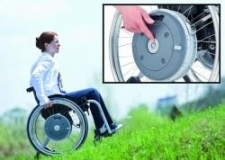 Are you looking to turn your existing manual wheelchair into a powered wheelchair? Do you want the manoeuvreability of a manual wheelchair, with the effortless drive of a powered wheelchair? Using your existing wheelchair you can achieve just that. Keep the narrow indoor wheelchair benefits while gaining that helping hand with powered wheel hubs, or the addition of powered motors without losing the size you need to fit your environment. Better Mobility has the answer with an Alber add on kit.
Ready for a new chair too? A Quickie Wheelchair or Kuschall Wheelchair from Better Mobility with Alber e-motion wheels - an amazingly light and powerful solution. In stock now, contact us to arrange a free demonstration today!
---
Attention OT's & PT's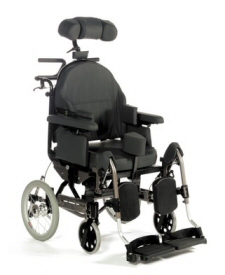 Now you can hire the equipment your patient needs, with the back-up and expertise of our seating & mobility specialists. Always hand delivered and set up by experts in their field, experience the difference working with Better Mobility can make to you.
As preferred suppliers to many hospitals and Clinics in the London area, we specialise in providing custom solutions for your hire needs. We can help you get the chair you need for your patient now. At Better Mobility we pride ourselves on our ability to deliver on an express basis to London and surrounding areas. We also hire equipment on a national basis, and are happy to discuss your requirements.
Our most popular hire chairs include the Rea Azalea, Breezy Relax and the Handicare Ibis. However, the list is growing, in addition to the hire of tilt-in-space and comfort wheelchairs, we hire a wide range of active wheelchairs, powered wheelchairs, and we have many other mobility aids available for rental.
Give us a ring on 01442 768797 and see how we can help you.
---
Recognised specialists of complete mobility and seating solutions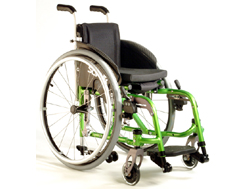 Suppliers of both sales and hire services to many private hospitals and clinics in the Greater London Area.
We provide assessments and quotations to embassies, insurance companies, charities, and private individuals on all manner of equipment.
Seating and positioning for optimum wellbeing and comfort is always our goal, and we work hand in hand with therapists to achieve the best customised solution for each individual.
---
About Better Mobility
We provide assessments and quotations to embassies, insurance companies, charities, and private individuals on all manner of equipment. Seating and positioning for optimum wellbeing and comfort is always our goal, and we work hand in hand with therapists to achieve the best customised solution for each individual.
We properly assess for, and can provide a full range of prescriptive and specialty chairs. Just some of the chairs we provide include Kuschall and Quickie chairs for active users, Rea Azalea Assist, Breezy Relax, Quickie Iris, and Handicare Ibis for the more passive user, and those requiring more specialized seating. We also carry an extensive range of powerchairs including Invacare's Topan, TDX, Spectra Plus, Mirage, new Typhoon II, and Sunrise Medical's Groove, Groove MWD, Salsa, Samba, Rumba, and the recently re-launched F40.
In addition to our specialty range, we stock a fantastic selection of Mobility Scooters, such as Pride scooters, Sunrise Sterling Scooters, Days Healthcare Scooters, Shoprider Scooters, Invacare Scooters, TGA Scooters, and RMA Scooters. Our staff are happy to advise you on transit and self propelled wheelchairs. We supply straight Brooks stair lifts, and Acorn curved stair lifts, as well as other makes of stair lift. Both showrooms have a wide range of top quality rise and recline chairs, such as Sherborne Furniture Riser Recliners, Pride Riser chairs, the Restwell range of rise recline chairs, and NHC Mobility Riser recliner armchairs, all available in a range of fabrics, leather, and PVC or vinyl.
---
Follow
Our customers say...
"Better Mobility not only supply a wide range of useful, imaginative and diverse products they also deliver a first class level of customer care. They take the time to discover the customers needs and match this with the relevant product. This is done with the utmost care making sure that it is the customer who comes first. I personally cannot recommend their products or first class customer service highly enough."


Heidi B

"My department has been provided with an exemplary service from Better Mobility for over three years. Their expertise, professionalism and experience is second to none and they willingly go 'that extra mile'."


R.C. BSC (Hons), MSc, PGCE.

"So pleased that I chose Better Mobility to help me select my first wheelchair. Their friendly and knowledgeable staff advised me on which wheelchair was best for my needs, set it up to suit me and even, after a few days of my using it, finally adjusted it to perfection. Itís daunting choosing a wheelchair but Better Mobility staff took the time to make sure that I got the right one for me."


Ian S.

"Better Mobility totally lives up to their name by not only providing you with the knowledge and equipment to move forward with life but also the confidence in knowing that they're only a phone call away if you need anything else."


Nick G.
"I just wanted to give some feedback about our experience so far with your company.

As you gathered this matter was one of some urgency, and we were so very grateful that you pulled out all the stops, and put a lot of effort into getting our patient his tilt in space wheelchair so promptly, boosting his chances of being accepted for rehab (the assesments today).

Tom was exceptionally helpful and professional - making sure that everything that needed to be done was achieved quickly and efficiently. I've been in the NHS for a few decades now and I really value people who get things done , and who can be friendly and flexible at the same time.

And then the delivery and professional assessment/adjustment: Annette (I hope that's right) was also very friendly and professional, a great communicator and importantly had a great deal of knowledge and expertise. The patient was understandably anxious -and she was able to put him at his ease, and confidently and competently get him in a very good position. His smile said it all. She was very informative, friendly and reassuring to the patient's family, (and not in the least bit fazed by being shut in the tiny bathroom with them while we hoisted him).The young man with her was also very helpful.

I just wanted to say thank you,

Best regards,"
A.V. (OT)

""My mother was delighted to receive her new wheelchair so quickly. Thank-you for arranging such a prompt delivery; ordered Monday pm, delivered Wednesday am.""


L.Grant
"I am so happy I made a phone call to Better Mobility - it was the start of a journey to get a wheelchair that has made a huge difference to my life.
I am so impressed with their knowledge, expertise, patience, understanding and above all their customer care. They have helped me find a chair that makes my life more comfortable in so many ways. The whole team has been attentive and polite, with the added bonus of canine cuddles!
Not only does my husband appreciate my new wheels, but my 5 year old son thinks they are amazing and is already far too protective of them!
Once again, thank you Better Mobility!"
Naomi Masters
"Dear Sir....
I am sure the overlay will help my wife to overcome her bedsores, she likes it! Thank you very much for your kind and prompt attention. Tom did all that I required and I would recommend you, any time, to anyone.
Thanks again,"
John Keen

"I just cannot praise Tom Alexander and Better Mobility enough. From the placing of my order [which I stupidly did wrongly] so I had to return the walker and when I received the replacement walker I was in heaven, it was just what I should have ordered in the first place! Thank you so very much for your brilliant service and care."


Judith Bowyer
Links
Featured Advice
Website of the Month
We Accept