Paediatric Mobility Assessments
Bespoke solutions for the changing needs of your child.
A comprehensive assessment from a highly knowledgeable company who cares.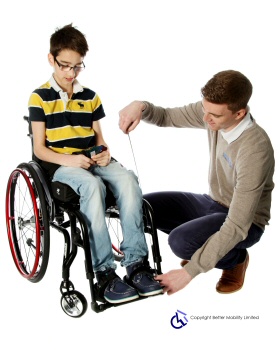 At Better Mobility we have always felt that children are unique, and their mobility equipment should be too. With a huge choice of products specifically built for children and young adults there is no need to tolerate limited selection or compromise on style. Given a choice of custom colours, sizes and accessories, your child can make their chair reflect who they are.
Our highly respected and knowledgeable team of seating and mobility specialists are happy to work in conjunction with your child's therapists to build the best chair for your them.
Helping a child to use appropriate mobility equipment from a very young age to enable them to interact with their peers and keep exploring is a key value of us at Better Mobility. The range of powered mobility available for children can be confusing and overwhelming. We are here to help you try different chairs and decide what's right for your child.
Whether your child is ready for their first wheelchair, or they're a wheelchair veteran, we can help them design the chair that works for them. Size and equipment choice notwithstanding, being able to choose colours, custom spoke guards, their name embroidered on their chair upholstery, or a mobile phone holder for your teen can make their chair truly personal.
Please contact us today to speak with one of our friendly advisors who will be happy to help.
---