Sunrise Medical Quickie Jive R2
Sunrise Medical Quickie Jive R2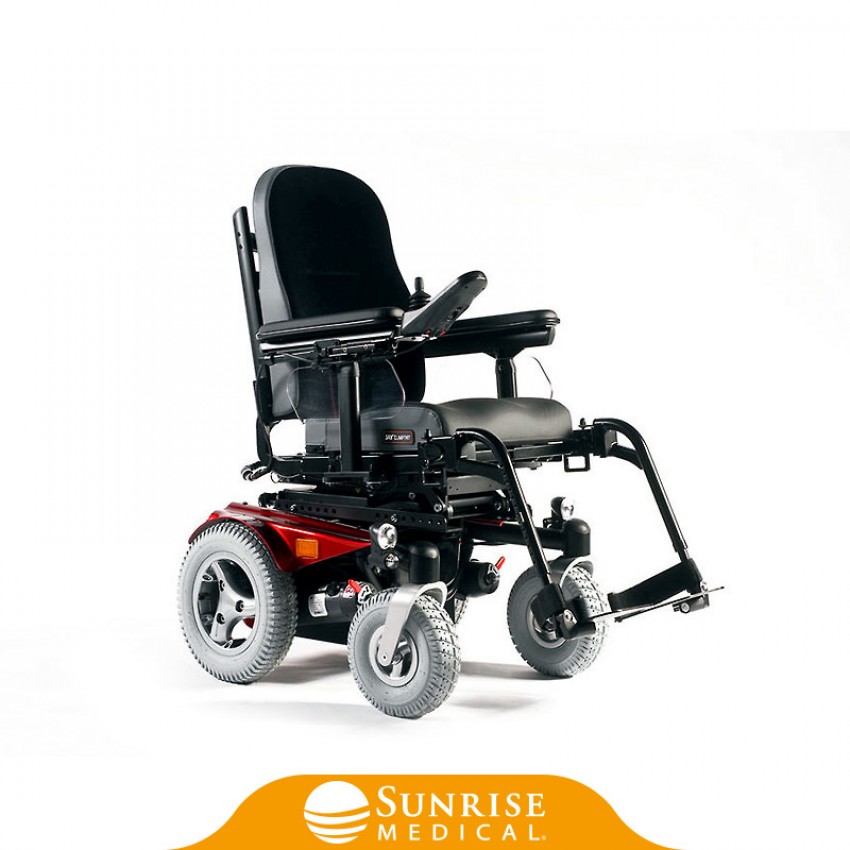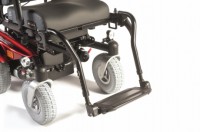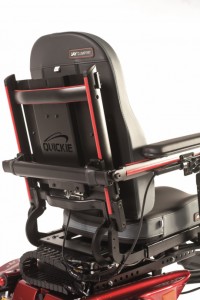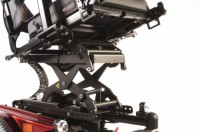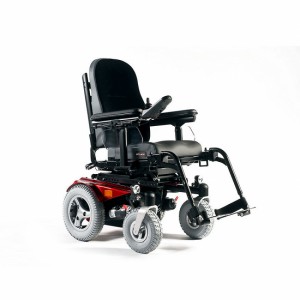 Purchasing Information
Prices from:
£6,050.00 exc. VAT
£7,260.00 inc. VAT
Product code: SUNQUICKIEJiveR2
Delivery time: 3-4 weeks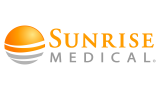 Tel: 01442 768 797
Email: sales@bettermobility.co.uk
Share:
The crash test symbol indicates that this chair has been tested for use in a vehicle to ISO7176-19 accreditation or similar.
Practical, Powerful and Comfortable

Description
The Sunrise Medical Quickie Jive R2 brings together excellent indoor manoeuvrability and smooth, capable outdoor driving performance. The compact dimensions and robust nature of the Jive R2's power base affords exceptional stability and control, while the powerful motors offer up to 13 km/h speed. An optional kerb climber attachment allows the Jive R2 to climb kerbs and thresholds of up to 10cm.
The Jive R2's innovative seating system is stylish, pleasingly simple, extremely adaptable and colour-coded to match the chair's base. Configuring the system requires minimal effort due to the flexible seat frame and the concealed back actuator. The Jive R2's seat frame is designed around the user and also allows for easy fine tuning of the armrest and seat. The frame also comes with a low seat to floor height of 43 cm.
Other features include the original base integrated LED lights and indicators, a four point tie-down system for transportation in a vehicle and adjustable drive wheel suspension.
Specification
* All size measurements in centimetres (cm)
Seat Width: 40 / 42 / 44 / 46 / 48 / 50 / 52 / 54 / 56
Seat Depth: 41 / 46 / 51 / 55
Floor to Seat Height: 43 / 46
Seat Lift Height: 30 (Powered) (Optional)
Seat Tilt:
0° / 3° / 6° / 9° (Fixed) (Standard)
0° to 30° (Powered) (Optional)
Backrest Height: 56 to 70
Backrest Recline:
-5° to 12°, adjustable (Standard)
-10° to 30°, adjustable (Optional)
-10° to 40° (Powered) (Optional)
Armrest Height: 21 to 30, adjustable
Speed: 6 / 10 / 13 km/h (3.7 / 6.2 / 8 mph)
Battery Size: 60Ah / 80Ah (Optional)
Max. Range: 32 km
Turning Radius: 120
Max. Safe Slope: 10°
Max. Kurb Climb: 10 (with optional kerb climber)
Electronics: VR2 / R-Net
Maximum User Weight: 160 kg
Total Length: 120
Total Width: 66
Total Weight: 187 kg
Details
Brand: Sunrise Medical
Product Code: SUNQUICKIEJiveR2
Documentation
---
VAT Exemption may be claimed for this item*.
For products that can be purchased online, simply add the product to your shopping basket and claim exemption when you review your basket, before you check out. Or, for products that cannot be purchased online, claim when specifying your requirements.
(*subject to status)