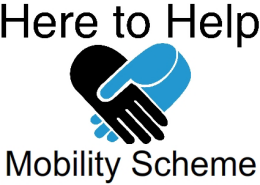 The 'Here to Help Mobility Scheme' is available from Better Mobility
Do you receive High Rate Mobility Disabled Living Allowance or Enhanced Mobility Component Personal Independent Payments?
If you do not use it for a Motability car you can use your allowance to fund a mobility scooter or electric wheelchair from us.
What does the Here to Help Mobility Scheme do?
It's an all inclusive, worry-free package, for the duration of your contract. We offer expert advice, insurance, including breakdown cover. The contract covers Servicing and Repairs, including tyres, batteries, charger and keys. All you are responsible for is the electricity to charge your equipment.
How do you apply?
Better Mobility can provide you with a no obligation, home assessment to evaluate the right equipment to suit your needs, storage and accessibility. Once the right equipment has been established, simply complete the application form given to you by our representative and very soon you will be in receipt of your scooter or chair.
What equipment can you receive on this scheme?
Any mobility scooter or powered wheel chair that is legal for UK use through the 'Here to help' scheme. Equipment needs to be MHRA/CE approved Class 2 or 3 mobility vehicle. If in doubt, do ask us.
The Here to Help Mobility Scheme has been helping people obtain the right equipment since 2008. The scheme was initially only available in Scotland but has been rolled out to cover the whole mainland of Britain.
To learn more about the 'Here to Help Mobility Scheme' or request an assessment, please complete the contact us form and we will be in touch.
Here to Help Mobility Scheme