Revolutionising the way in which powerchairs are programmed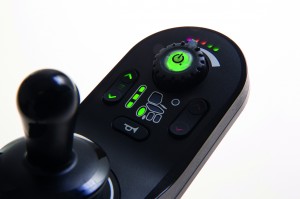 We are pleased to bring you the Invacare powerchair control system – LiNX.
Because no two people are the same, rarely are two journeys the same, and power chair configurations can vary – intelligent and innovative technology within the LiNX control system recognises and accounts for this. The result being, a consistent, reliable and high performance drive experience that will help build confidence.
Simply Smart Interaction
The LiNX control system joysticks are specially designed with ease of use and reliability in mind. The system is easy to understand and use by all, including those with limited cognitive abilities. Key features include:
Perfectly positioned on/off button
Light and effortless joystick movement for greater control
Accurate battery display
Instant speed adjustment dial
Icon based menu
Simple key less lock function
Check out the full LiNX Control brochure here.
As an add-on within the LiNX System, the dynamic load compensation ensures motor resistance levels are set correctly for the individual. Plus, LiNX G-Trac is digital gyroscope technology, designed to reduce the number of corrective actions needed and increases the point to point driving accuracy.  To make sense of all of this technology, Invacare have put together a dynamic presentation of the LiNX Control System and the available options which can be accessed via their website.
The LiNX Control system is an optional extra on the TDX SP2, TDX SP2NB, Spectra XTR2 and Kite.
LiNX comes as standard on the Fox, Fox in a box and Spectra XTR3.
Contact us to learn more about any of the above chairs or how the LiNX Control System could work for you.
Introducing the The LiNX Control System from Invacare