Designed to assist in the thorough assessment of equipment
This comprehensive guide from Invacare is designed to help carers risk assess a client for the selection of a suitable hoist or sling.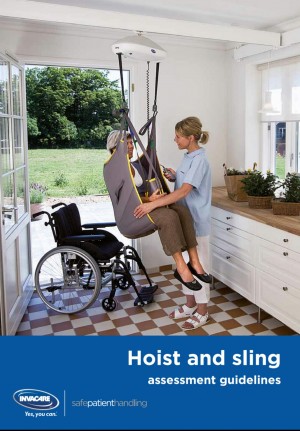 The Guide includes
Key risk assessment principles
Functional Independence Measurement (FIM)
Stand assist lifters
Provision of slings for passive hoists

Choosing the correct sling
Sling models
Sling fabrics
Sling sizing
Weight capacity
Identification label
Special slings
Stretcher slings

Sling and hoist compatibility Hoist selection

Spreader bars
Passive hoisting systems
Mobile hoists
Mobile hoist versus overhead tracking hoist
Selecting a mobile hoist
Overhead track hoists

Informed equipment choices
DOWNLOAD YOUR COPY HERE
Click here to view our range of Hoist and Slings.
If you would like a product demonstration or further assistance do contact our mobility specialists.
Hoist & Sling Assessment Guidelines